Silentaire compressors are known in over 150 countries worldwide. Our main production facility is located in Northern Italy and has been operating for almost 50 years. Silentaire Technology has been in North America for more than 20 years and has built a strong reputation as the market leader in quiet air compressors.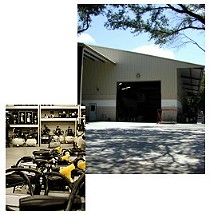 Ongoing research and development has ensured Silentaire compressors to be both reliable and virtually trouble free. Our Northern Italy factory has invested heavily into modern production methods and employs over 200 people. With 220,000 square feet of production space and over 100 different models, we are the largest manufacturer of quiet air compressors in the world.

Through constant communication with our European factory we are able to consistently deliver a high quality and dynamic product. In our Houston, Texas facility we can also customize our products to your exact specifications and needs. Our OEM department and production team is always ready to help you.

WE AT SILENTAIRE TECHNOLOGY STRIVE TO:
Pick the right compressor for your needs!
Supply you with high quality and reliable products.
Always give 100% personal effort.
Provide technical advice and free lifetime technical support.
Unmatched Product Support
We realize leadership in the Silent Air compressor world comes with
"Service after the sale".
CALL NOW! 1-800-972-7668





Val-Air Compressors
Val-Air compressors are virtually "noiseless" and the compressor is automatic

Oilless Compressors
Built to the highest quality standards which produces excellent efficiency.


Noise Chart
See how Silent Aire Compressors stack up in the noise department